ABOUT OUR PORTABLE CARD MACHINES
Epaymentsolutions can provide a wide range of business solution for small and large scale with portable card machines
Portable card machines are convenient payment solutions that allow merchants to accept card payments even when they're on the move. Epaymentsolutions card machines are typically the size of a mobile phone or a handheld device, and they are connected to a network that processes the payments.
With a portable card machine, merchants can accept payments from all major debit and credit cards, as well as contactless payments like Apple Pay and Google Pay. Portable card machines also provide enhanced security for transactions, as they are EMV-compliant and use secure encryption technology. 
Easy To Use With Wireless System 
Connect WiFi And Bluetooth Or GPRS
Good For Restaurants 
What We Have in Our Portable Card Machines?
Pax A920
The A920 can be connected by GPRS to a roaming SIM card so you can take payment on the move at any time for any occasion, so whether you are taking payment inn the middle of a field for door entry or connected to high speed through the Wifi option the Pax A920 is a perfect device for any business that is on the lookout for a feature rich, super fast processing payment terminal for their business.
The Pax A920 is multi functional and can be operated as a mini epos system as well as a payments device. The processor within the A920 is fast enough to process a payment in a matter of 2/3 seconds. The A920 Pro version has a larger processor and a-slightly larger screen making it the perfect fit for a mini POS solution.
The great thing about the Pax A920 device is the innovation on the Pax Store, think of it like the apple store for payment devices, this store has an abundance of quality value added apps that can be pushed to your payment terminal remotely, Loyalty apps, Mini Epos software amongst many others that turn your Pax A920 into a mean machine of a payment terminal.
Ingenico Move 5000
All of our Move 5000 terminals are supported by our technical support team at Modern World Business Solutions.
As the Move 5000 payment terminal is one of the main payment terminals that we distribute here is a little bit more information about the Ingenico Move range.
As well as its portability, the move 5000 range enables a faster transaction flow to speed up the payment process by accepting any payment methods. With the Move/5000 or Move/2500 C versions, merchants are also able to accept a whole host of alternative payment methods, including those processed by camera and barcode scanner. With the innovations that are being worked on within the payment space at the moment these extra enablers of payments could be very important for your business to accept the payment methods of choice.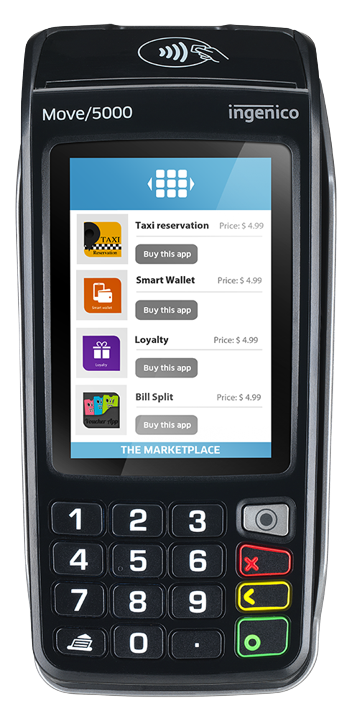 PORTABLE CARD MACHINE FEATURES
Here are some things you should know about the Ingenico Move 5000 payment terminal:
Here are 10 great things about the Pax A920 device
It is (in our opinion) the sexiest looking payment device on the market at the moment, its aesthetically pleasing looks makes it a firm favorite for beauty salons and hair salons as they fit in perfectly with the surroundings.
The Pax A920 functionality is rife. The A920 is a feature rich payment terminal which allows you all of the usual features of a payment device with the added benefit of the Pax Store which allows you to push applications to your device.
The A920 PRO, this has a larger processor and a slightly larger android touch screen. It also has a camera that acts as a barcode scanner! You can check out the data sheet of the A920 Pro HERE.
Connect via GPRS or Wi-Fi for a strong and fast processing journey.
The Pax Store is constantly being updated with new applications or updates to the apps that are already pushed to a terminal, always making them better, faster and more secure for the Pax A920 user.
The Pax Store allows your technical support desk to remotely look into your terminal from afar and resolve any issues, think of it as the Tesla of payment terminals. This allows your support team to fix any issues that you may experience.
The user friendly and visible touch screen makes it super easy for a user to input the detail that they require straight into the Pax A920.
The Pax A920 has a 5250mAh capacity battery which keeps you fully charged for a busy day of processing payments up to 8 hours.
This machine is acquirer agnostic as it is certified with multiple acquiring banks, With Elavon, Worldpay, Clover, Merchant Pay to name a few. This means that we can swap the bank that you are with without changing your hardware IF the terminal has been distributed from MWBS head office.
FREQUENTLY ASKED QUESTIONS
Here are some questions that are frequently asked about our mobile card machines.
How do I know if a portable payment terminal is for me?
Portable terminals are perfect for venues that do not have an extensive reach within the building. They rely on a signal from the base that is plugged into the Ethernet, so if you need to move around lots within your building then a mobile might be a better fit. However, if you run a business that is serving clients at a counter then a portable terminal might be the correct solution for you. With fast transaction speed and a base to ensure battery life is always retained, a portable terminal is perfect for busy hospitality venues.
How is a portable terminal connected?
A portable payment terminal is connected through a base that is connected through Ethernet. The terminal then sits on the base and can be connected via either Bluetooth, GPRS, or WiFi. The hand unit can be removed to up to 100 meters in some cases from the base to process transactions.
What is the battery life like on your portable card machines?
The battery life of a portable terminal is around 8 hours; however, the beauty of portable devices is that they sit on a recharging base when not in use. So theoretically it should never run out of battery.
What types of businesses usually use a portable card machine?
Any business that serves at a counter usually uses a portable payment terminal. Usually, a business has busy periods so that the terminal can be placed back to gain charge in-between. Also, businesses do not have to take the device too far from the connected base unit.
Is there a contract for a portable terminal?
We can assist you with issuing you the contract length that you feel comfortable with. But you will have to sign into a rental agreement of some description.
Are your payment terminals fully supported?
Yes – all our mobile payment terminals are fully supported by our dedicated technical support lines which are open 7am – 11pm 7 days a week.
What happens if our portable payment terminal breaks?
If your mobile payment terminal breaks due to a manufacturer's fault, we offer a 24-hour swap-out service as standard. However, please note that if you break your terminal by dropping it then our warranty does not cover this, and you would be expected to pay for the repair.
How much does a portable payment terminal cost?
Our portable payment terminals range in costs depending on the one that you choose, to give you an idea they range from £15.00 per month to £30.00 per month.
Talk To Our Expert Today
We have helped hundreds of businesses throughout the UK save money on their rates. Book a review today!
Email us
naveed@epaymentsolutions.co.uk